Tiffany Inspired Favor Bags
162-SB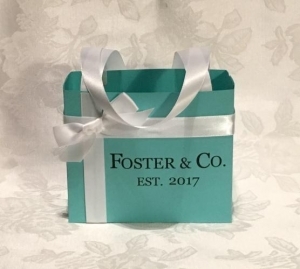 Our Tiffany inspired favor bags will charm your guests while adding to a Tiffany themed decor!
We offer our bags in two sizes:
Small; its dimensions are 3 1/2" long x 2 1/8" tall x 1 3/4" wide and can hold 20+ Hershey Kisses ®. Price is $2.49 each
Medium; its dimensions are 5" long x 4.25" tall x 2.5" wide and can hold 50+ Hershey Kisses ®. Price is $2.79 each
Please note that the size of the text depends on the number of characters. The first line may need to be broken into two lines, ex:
Bethany's
Bridal Shower
Due to high demand, please allow up to 10 business days to fulfill orders; add 1-5 days for shipping.