Mazel Tov Cupcake Wrappers
139_J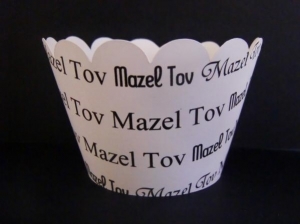 For our Mazel Tov Cupcake Wrappers, you choose the color that you would like your text to be. And, for an additional $0.20 per wrapper, we can personalize them with a name(or names). The names will be in the same rotating fonts as the words "Mazel Tov".


If you'd like your text in a color other than what is offered - simply tell us in the "Additional Comments" text box!


You'll love how your cupcakes look dressed in our custom cupcake wrappers. These cupcake wrappers are not for baking. They are used for display only. Our wrappers have a tabbed end that fits into a slit on the other end; very easy to put together although we also include instructions. You can also simply tape them together. Wrappers measure 2 1/4" to the top of the scallop.
Please allow us 7 business to fulfill your ;eopard cupcake wrapper order, then add ship time. Shipping cost is a flat-rate of $3.00