Magical Shoe Design Trinket Boxes
156-SHOE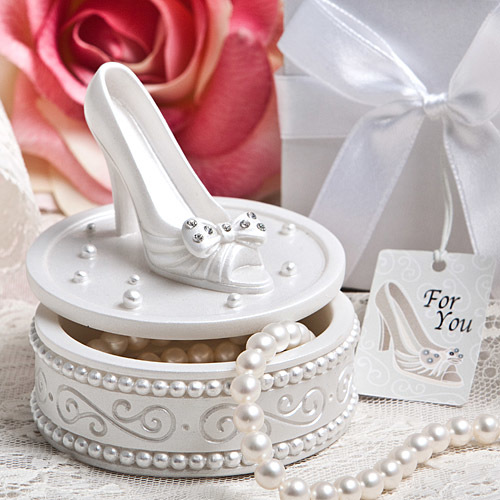 What girl or woman wouldn't love to receive this exquisite shoe trinket box? Perfect as a Cinderella Party Favor or the birthday favor of a Shoe Diva!

Description and details:
Each shoe box measures 2.25" x 2.25".
Made of poly resin with a white pearlized finish, the two-piece round box has a removable cover that opens up to the trinket-holder inside.
The top features a dramatically designed high heel shoe charm - with elegant styling including a rhinestone accented bow - surrounded by a series of raised pearl accents.
The sides of the base are exquisitely detailed with carved swirl designs and pearl strand wrapped borders.
Packaged in a white box wrapped with a white satin bow with a matching Design "For You" tag attached.
Please allow up to 5 business days to fulfill your order; then add ship time from NY.
Wrapper Design
Multi-Color Shoes (0) One Color Shoes (0)
If One Color, which color: