Gold Vintage Skeleton Key Bottle Opener
280-WINE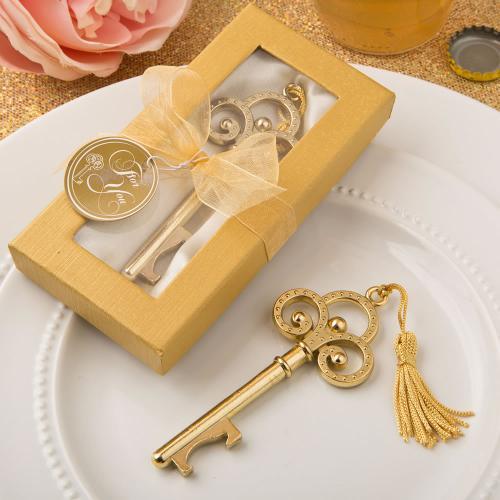 If you've selected a vintage theme as your wedding, we are sure your guests will love receiving these beautiful (and beautifully packaged!) gold vintage skeleton key bottle openers. Details include:
Size is 4" X 1.5"
Gold vintage skeleton key bottle opener
Made from sturdy caste metal with a shiny gold finish
Top is decorated with an intricate ringed design and a beaded texture
Golden tassel on top for added elegance
Base of key features a sturdy cut-out bottle opener
Packaged in gold luxuriously textured two piece box
Box has clear window for easy viewing of the key
The key rests on a bed of ivory satin
Box is wrapped with a gold organza ribbon and bow
Attached to the ribbon is a round gold 'For You' tag
Please allow up to 5 business days to fulfill your order; then add ship time from NY.