Glitter Shoe Cake Topper (Many Colors!)
145-SHOE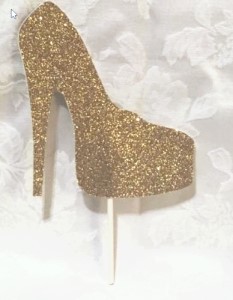 Another Diva Entertains exclusive! Our fabulous glitter high heel cake topper is sure to add high impact and fun to your celebration!
The Shoe is 5.5" tall x 5"wide
With the Stick the entire topper is 8"
Between the bottom of the Shoe and the bottom of the Stick is 2.5"
Each topper is two-sided (so the front looks the same as the back!)
Please allow us up to 4 business days to fulfill your order, then add 3-5 days ship time. Thank you!
Glitter Shoe Color
Gold Glitter (shown) (0) Silver Glitter (0) Black (0) Red (0) Hot Pink (0) Light Pink (0) Aqua (0)