"Feathering the Nest" Ceramic Birds Salt & Pepper Shakers
272-UNIQUE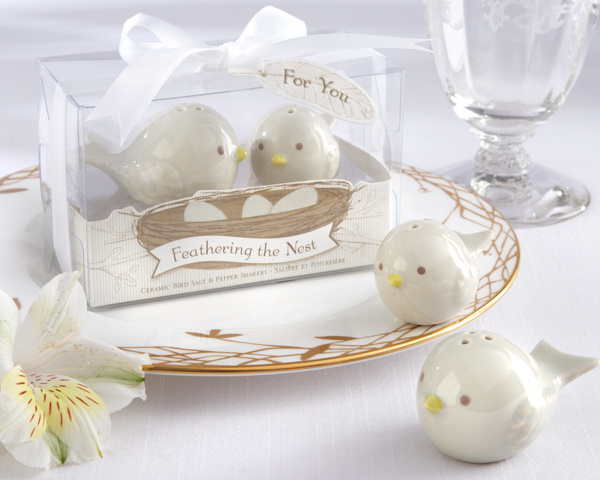 A loving mother bird and smaller baby bird, both endearingly designed from beak to tail, bring a very special feel to this baby shower thank-you gift. Features and facts:
Soft-gray ceramic birds with yellow beaks, black eyes and charming detail in the wings and tail
Mother bird sprinkles salt and baby bird holds pepper
Mother bird measures approximately 1 1/2" h x 1 1/2" w x 2 1/4" l; baby bird measures 1 1/4" h x 1 1/4" w x 2" l
Clear display gift box shows salt-and-pepper shakers peeking above a base depicting a graphic nest with three eggs, delicate branch-and-leaf accents around the base, a white-satin ribbon and bow, and a feather-shaped tag that reads For You
Gift box measures approximately 2 3/4" h x 4 1/4" w x 2 1/4" d
Sample price of $3.25 is limited to one per order and cannot be purchased with additional quantities of this item. Limit of 1 sample, in total, per order.
Please allow up to 7 business days to fulfill your personalized order; then add ship time from GA