Blue Baby Carriage Design Key Chains
264-BABY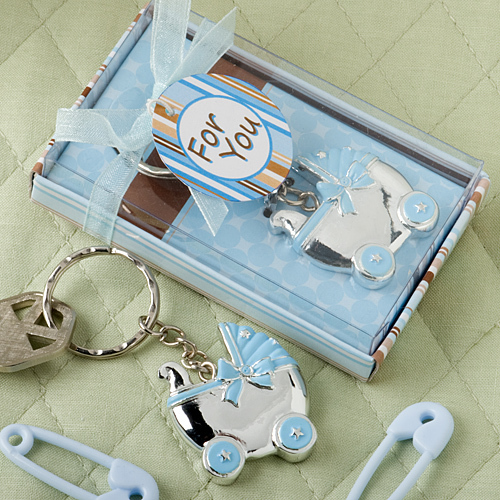 Looking for blue baby shower favors?? With these blue baby carriage design key chains, you're all set!
One of the classic symbols associated with a new baby's arrival, a baby carriage is sure to trigger smiles. And this baby carriage design key chain favor will give your guests a warm, memory-filled feeling each time they reach for their keys and think of your adorable little boy! Each key chain measures 1.125" x 1 1/8" (3" including chain) and has a shiny silver finish poly resin baby carriage shaped charm accented with blue wheels and top and an attached silver metal chain and key ring. Great with birth announcements or as baby shower and Christening favors, each favor comes designer-packaged in a clear topped box with a blue, brown and white striped base with a star pattern inside, tied with a blue organza bow and an attached matching design "For You" tag.
Please allow up to 5 business days to fulfill your order; add ship time from NY.