Birthday Balloon Lottery Ticket Holders
118-BIRTHDAY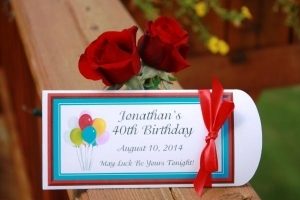 Having a lottery theme for the birthday party your hosting? Then our birthday lottery ticket holders are the perfect 'wrapping' for handing out lottery favors to your guests!
Made of cardstock, each lottery holder measures 6" x 3". Lottery tickets are not included. Please allow 7 business days to create your order; then add ship time from the west coast. Shipping is a flat rate of $5.95.
To Seal Our Lottery Holders: The back of each holder has a tab that folds down (just like an envelope) and needs to be sealed. We include white seals with each order. You can also find beautiful seal options options (monogram, for example) at any craft store (in the wedding section) or stationary store. Another very elegant look is to seal them with wax and a monogram stamp (also found at most craft and stationary stores).