Bar & Bat Mitzvah Grippy Socks
134-J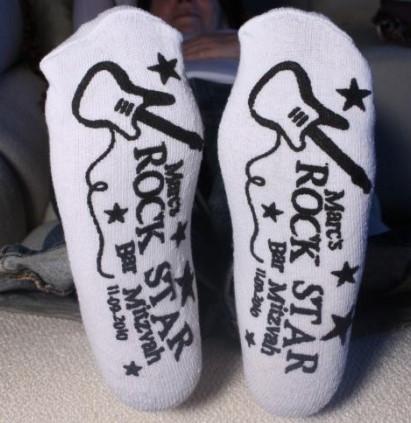 Why are these personalized grippy socks given out at Bar and Bat Mitzvahs? Not only as an extremely cool take-home favor - but also so that guests can dance the night away in comfort! The words and design are actually non-stick treads - so no slipping when wearing them. There is no charge for custom designs!

Grippy socks are the one-size-fits-all terry-knit socks that have the ink treads on them; they are also known as personalized dance socks. Depending on the size of the child or adult, they come up to the top of the ankle or a few inches above (these are not below the ankle socks. See the photo of girls wearing for an idea of how long they are! These are sold in SETS OF 48 pairs of socks.

Is there a particular design you would like us to create for you for your grippy socks? We'd be glad to have our incredibly talented graphic artist create at no charge. Just call us and tell us what you are looking for (if you have already have an image, please send it to us at info@divaentertains.com) or describe it to us in our 'Additional Comments' box. We'll send you a proof for approval once you order!

You will receive your grippy sock order approximately 3 weeks after you submit your order.