"ABOUT TO HATCH" CERAMIC BABY CHICK SALT & PEPPER SHAKERS
235-BABY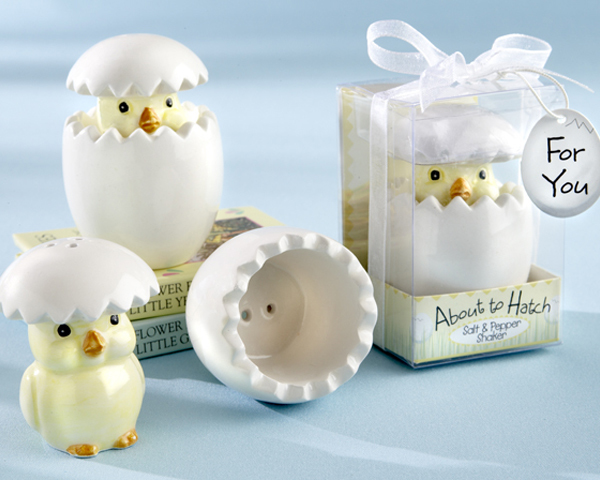 How cute are these!! We know your guests will agree and will be delighted by their shower favors!
Features and facts:
"Cracked" ceramic egg with a pale-yellow, chubby-cheeked chick wearing the top of the egg as a hat, peeking out at the world
Salt shakes from the top of the little chick's "hat", while pepper sprinkles from the bottom part of the egg
Shaker measures 2 ¾" high x 1 ¾" in diameter
Clear display gift box says "Grade A" on the back and "About to Hatch" on the front; accented with a delicate organza bow and an egg-shaped "For You" tag
Gift box measures 2" x 2" x 3"
Sample price of $2.59 is limited to one per customer and is not available if ordering more than 1 of this product. Limit of 1 sample, in total, per customer.
Please allow 7 business days for personalized orders; then add ship time from GA.